The Pilgrim Tapestry is a 40 metre long embroidery in wool on linen cloth which depicts the Pilgrim's Way from Hammarö in Sweden to Trondheim / Nidaros in Norway.
The Pilgrim Tapestry has been embroidered over the course of two years by ten women from Northern Värmland and Solör in Norway. The Tapestry was completed to the celebration of Trondheim's 1000th anniversary in 1997. Its pilgrimage then continued to Stikklestad Nationale Kultursenter in Norway, then to Stockholm's Medeltidsmuseum, and after that to Ransby in Northern Värmland where it now has settled and can be seen.
The "Pilgrim's hostel", where you find the Pilgrim's Tapestry, was designed by the architect Kari Hovin Kjölle from Trondheim. The "hostel" is a 20 meter long building of timber. You follow a path of sun heated stones from north Värmland and Solör in Hedmark. Through a forest of old treas or timber you make your way up the Klarälven/Trysilelva to Röros and then down Gaula all the way down to the Atlantic coast and Nidaros
The concept is borrowed from the Bayeux Tapestry, which depicts the battle of Hastings and was made 1067-1076 by women in France.More info about the Bayeux tapestry.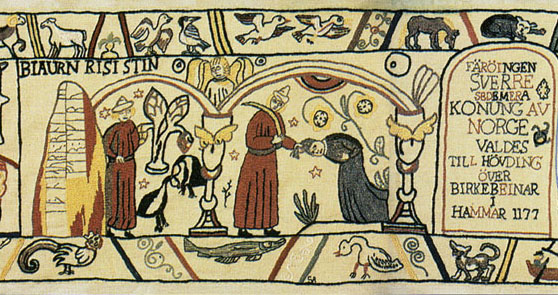 The Pilgrim route starts at Hammarö